The Resident Coordinator Office
The Resident Coordinator (RC) system's role in country is to bring together the different UN agencies to improve the efficiency and effectiveness of operational activities at the country level.
The RC leads the UN country team. His role is pivotal for the success of the United Nations in reaching the Sustainble Development Goals and the 2030 Agenda. The Resident Coordinator leads and strategically positions the United Nations Country Team (UNCT) to address people's needs and vulnerabilities, to help achieve the Sustainable Development Goals and Leave No One Behind.
The RC system encompasses all organisations of the United Nations system dealing with operational activities for development, regardless of their formal presence in the country. The RC system is supported in UNHQ by the UN Development Coordination Office (UNDCO).
In countries facing a humanitarian crisis, like Syria, the Humanitarian Country Team (HCT) brings together all humanitarian actors including UN organisations and International NGOs, in addition to representatives of National NGOs, SARC, IFRC, and the sector coordinators and ICRC as observers, to ensure their full participation in the decision-making process concerning the humanitarian response.
The HCT is chaired by the UN Resident Coordinator and Humanitarian Coordinator in his capacity as Humanitarian Coordinator and coordinated through the UN Office for the Coordination of Humanitarian Affairs (OCHA). The HCT's work is framed within the Humanitarian Response Plan (HRP) which is developed bi-annually on the basis of the needs identified in the Humanitarian Needs Overview (HNO) annually.
The UN Resident Coordinator and Humanitarian Coordinator acting interim (UN RC/HR a.i) for Syria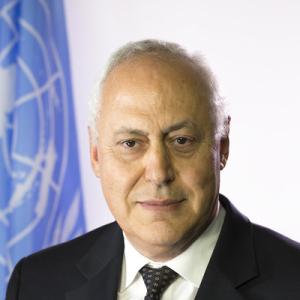 El-Mostafa Benlamlih
Resident Coordinator and Humanitarian Coordinator a.i