Story
Wheat production contributes to a better living for Nadia's family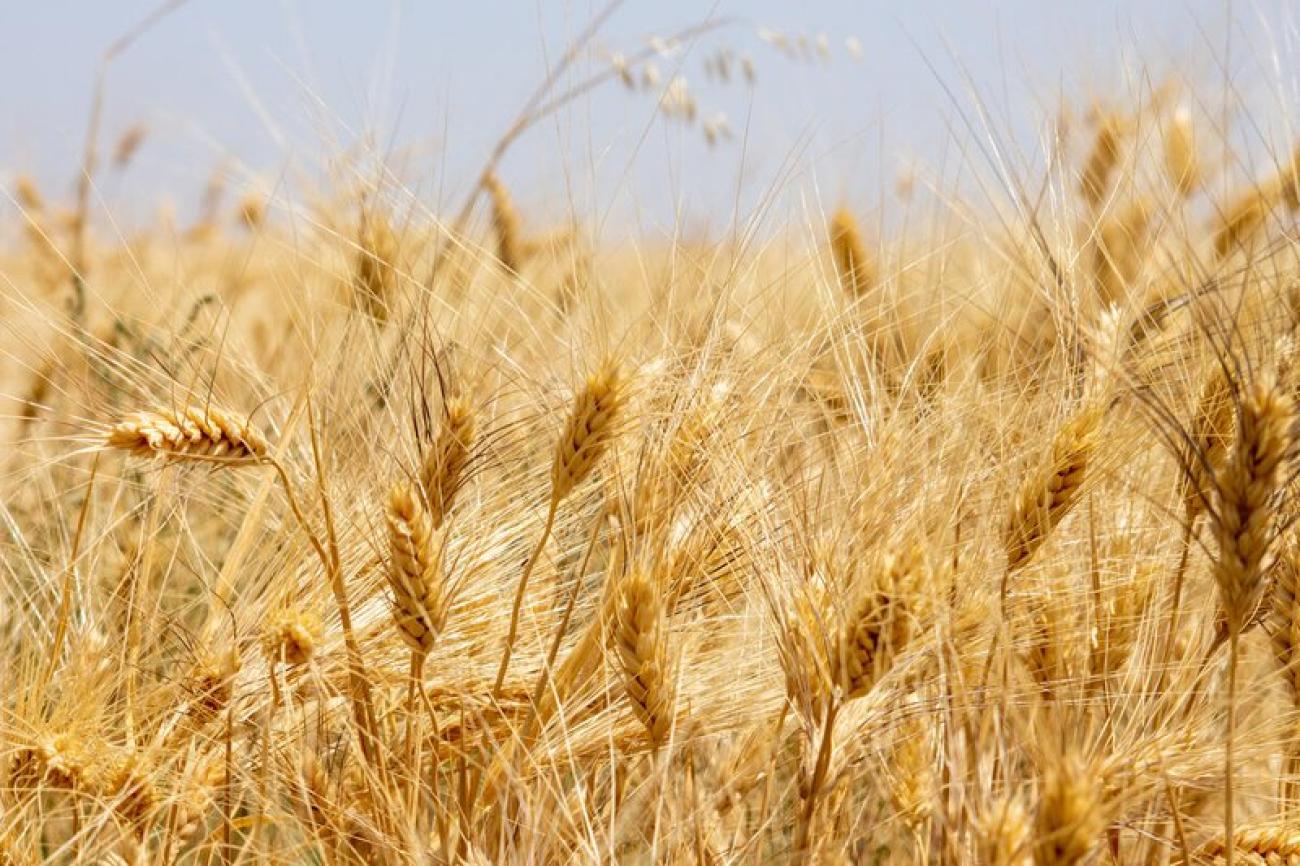 Wheat is crucial to Syria's food security – it is an essential element of the Syrian diet.
For which they have to thank many thousands of small-scale farmers for their efforts some of whom have been being supported by FAO.  
Today, in June 2022, the Muhardeh countryside in Hama governorate is a beautiful sight, the wheat fields a golden carpet. Though they were affected by a late cold spell, the farmers in the area were preparing for a good harvest season after they received quality wheat seed provided by FAO and were able to access water for irrigation. The Organization, with the support of Germany through anticipatory action in FAO (SFERA), has contributed to the food and nutrition security of small-scale wheat producers by providing more than 513 tonnes of wheat seed to 2 565 vulnerable farmers in the governorates of Hama, Deir Ez-Zor, and Ar-Raqqa. Each farmer received 200 KG wheat seed, enough to plant one hectare of land. 
This year it has been a very different story in other parts of Syria, where farmers in rain-fed areas have again lost most of their crops, for the second year running, and upwards of 80,000 households are facing real hardship and uncertainty for the coming years. 
Hama governorate is one of those which contributes to the country's wheat production.  It also witnessed harsh events during the conflict over the past decade which forced thousands of farmers to flee their lands for safety. Returning back to their lands was not easy for farmers – they couldn't access quality inputs, including seed and fertilizers, due to shortages in the local market.    Also for many, their homes were destroyed; and they had to travel long distances by motorbike just to access their fields.
Nadia Darwish, 34-year-old mother of three children, is one of the farmers who was forced to leave her land seeking a safe place away from armed conflict. After losing her husband during the war, she became the only breadwinner for her children and had to work on the farms of others for a daily wage. When she returned home in 2021, she realized that her homecoming was not going to be easy: "When I came back to my land, I had nothing to restart my production activities, I didn't have money to buy enough seeds, nor did I have any means of irrigation or any fertilizers," said Nadia.
The special needs of displaced families like Nadia's were prioritized.  Moreover, the Organization has also supported farmers with guidance on good agriculture practices, efficient irrigation and water resources management, climate-smart agriculture and other topics that contributed to the improvement of the farmers' crop production in terms of quality and quantity. Through WhatsApp, FAO's trainers made sure to follow up with the farmers' production practices, besides raising their awareness about the importance of quality seeds, seed rate, plant-to-plant and row-to-row distance, method of sowing, water management at critical stages, harvest residue management, timely identification of pests, and preventive use of crop protection products.  "FAO provided me with the seed at the right time, they held our hands all the way from the beginning till harvest day." Said Nadia.
The crops produced will be enough for her family's own consumption, for this year and will provide seed for next year's use. Nadia is very happy as she can now again meet the basic needs of her three children.
UN entities involved in this initiative
FAO
Food and Agriculture Organization of the United Nations