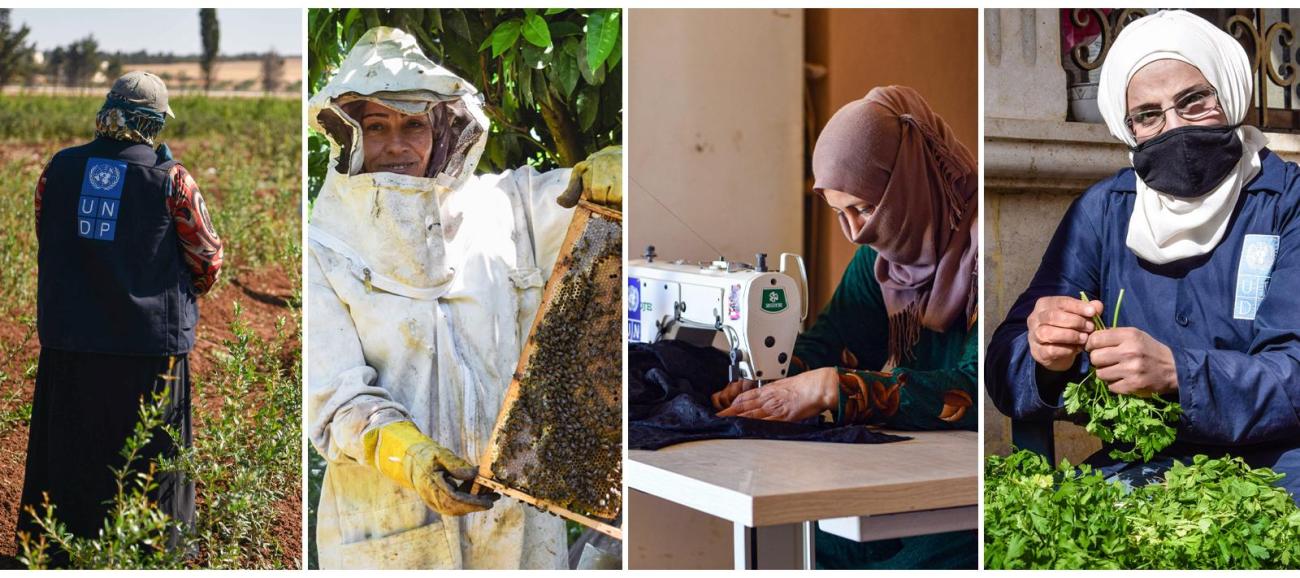 Women led social enterprises to pave the way toward economic independence, empowerment, and community solidarity.
"It all starts with an idea. We had this dream for years, we finally made it a reality"
Maysa'a one of the founders of the Social Solidarity Kitchen in Swaida.
In 2021, the United Nations Development Programme (UNDP) launched the Idea Challenge project, the first social enterprise programme in Syria with the aim of supporting the development of new and/or existing social enterprises that contribute to women's economic empowerment.
What is a social enterprise?
A social enterprise or social business is defined as a business with specific social objectives. By selling goods and services, social enterprises create employment and reinvest their profits back into their business or the local community. In this way, social enterprises contribute to tackling social problems, improving people's life chances, all while providing training and employment opportunities.
Why social enterprise?
Over a decade of war and crisis in Syria have pushed millions of people into unemployment and poverty. More than 90 percent of the Syrian population is estimated to be living below the poverty line, and close to two-thirds live in extreme poverty with women being disproportionately affected.
At the same time, women's participation in the labour force remains relatively weak at 22 percent, compared with 78 percent for men. With less access to land and asset ownership women face significant barriers in accessing financing opportunities. Among micro, small and medium sized enterprises, women own 35 percent of businesses, of which 73 percent operate in the informal sector.
That is why it is important to invest in social enterprises that are led by women, staffed by women, and created for women who can be catalysts for change.
How we did it?
The announcement and call for applications for the Idea Challenge Project was made on UNDP Syria Facebook page reaching over 200 thousand people.
359 teams applied for the competition, from all over Syria. Using rigorous criteria to choose the ideas most likely to succeed, 50 teams were selected to participate in a four-day bootcamp in business model generation and business plan development.
"It was very inspiring to see all the diverse and innovative ideas we have received from women from all walks of life" said Tammam Yahia, private sector and MSMEs support and development programme specialist.
"We received many innovative ideas that challenge traditional gender norms, offering solutions to address some of the barriers facing women's economic empowerment and marginalized communities" he added.
At the end of the boot camp, 26 winning teams received financial support and mentorship from the Syrian Business Council (SBC).
How they did it?...Meet some of the champions by read the full story
UN entities involved in this initiative
UNDP
United Nations Development Programme