Press Release
Press Release on the World Urban Forum
28 June 2022
Let's Count Down to the World Urban Forum (Eleventh Session)
Click HERE to register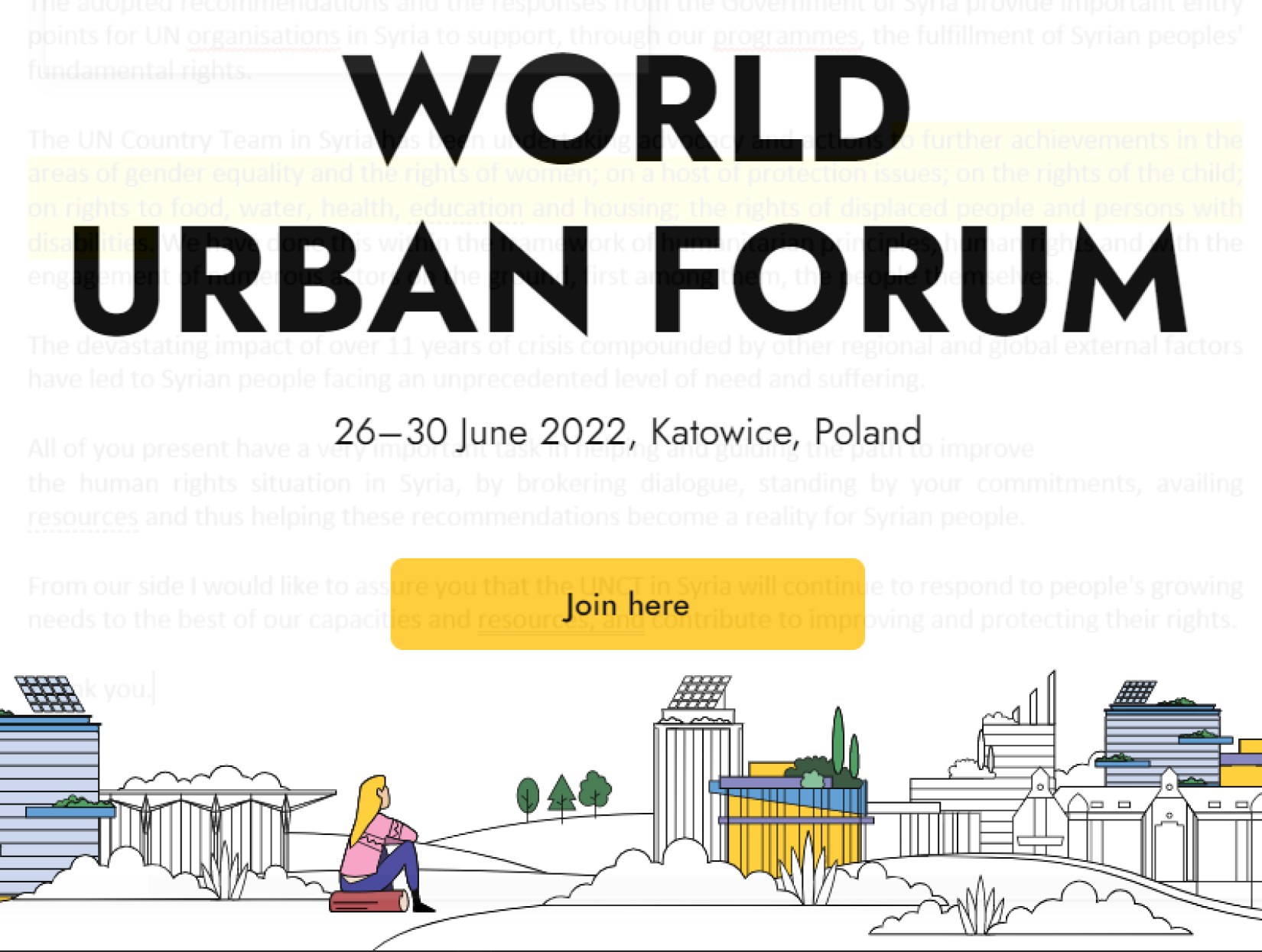 Less than 10 days left!
The Eleventh Session of the World Urban Forum (WUF) is getting close! More than 10,000 people are expected in person from 26-30 June in Katowice, Poland and thousands more online, in the hybrid event, which is organized and hosted by UN-Habitat, in cooperation with the Government of Poland.
Strong representation from across the Arab region includes Ministerial, official, expert and academic delegations participating in discussions around a better urban future, achieving the Sustainable Development Goals (SDGs) at the city level, tackling climate change challenges, and building back better.
But what is the World Urban Forum?
WUF is the premiere global conference on sustainable urbanization held every two years with the aim of raising awareness around sustainable urbanization, improving the collective knowledge of sustainable urbanization through inclusive open debates, sharing of lessons learned and the exchange of best practices and good policies, and increasing cooperation among stakeholders.
This year WUF11, which comes under the theme "Transforming our cities for a better urban future", consists of various types of events, including Networking Events, Voices from Cities, SDGs in Action, One UN, Urban Library and Training Events.
Every WUF, the Arab region, which is rapidly urbanizing and majorly engaged in the discussions on sustainable urbanization, contributes immensely through leading sessions adding to the conversations on how to make cities more sustainable, inclusive and greener. This year is no different, with large participation from the region through the sessions listed below.
UN-Habitat is inviting everyone to register HERE to attend physically or online and be part of the conversation on Transforming Our Cities for a Better Urban Future. The deadline for online registration is 25 June.
You will also be able to follow the live broadcast of some of the sessions on the UN Web TV HERE.
Click HERE to register
For more information, please contact:
Taimaa Mourad, Communication Assistant, UN-Habitat Syria Programme, taimaa.mourad@un.org, +963 965 044 536
Visit: https://wuf.unhabitat.org/
UN entities involved in this initiative
UN-Habitat
United Nations Human Settlements Programme